Snickers (Permanent Foster)'s Web Page
Boston Terrier : : Male (neutered) : : Medium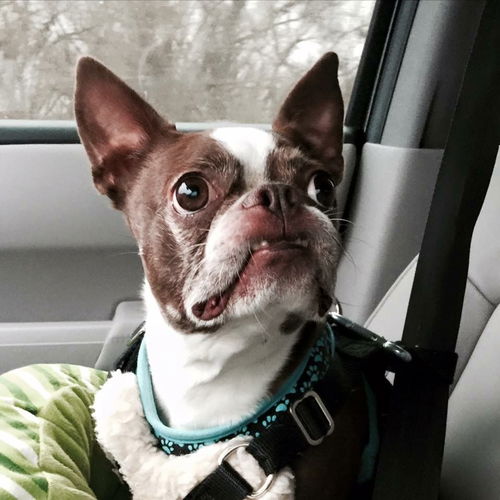 I would love you more than you can imagine.
Please adopt me!
Learn more about the Boston Terrier.
Print an adoption flyer for Snickers (Permanent Foster)!
American Boston Terrier Rescue & Rehabilitation
www.abtrr.org
About Snickers (Permanent Foster)

Status: Available for Adoption (adoption info)
Species: Dog
Rescue ID: D160015
General Color: Red
Color: Red and White Tuxedo
Ear Type: Erect
Current Size: 18 Pounds
Current Age: 13 Years 7 Months (best estimate)

Fence Required: Yes(6 foot)
Housetrained: Yes
Obedience Training Needed: Has Basic Training
Exercise Needs: Moderate
Grooming Needs: Not Required
Owner Experience Needed: Breed
Reaction to New People: Cautious
***Permanent Foster***NOT Available for Adoption***
Snickers is a permanent foster dog with ABTRR due to behavioral issues. He will remain with us for the duration of his life. Snickers requires twice daily medication for low thyroid, as well as an expensive prescription medication to help him with his fear and aggression issues.
If you would like to support Snickers click here http://a.co/emXaDWG.
If you would like to donate towards Snickers' monthly care, send your donation to:

Paypal: @abtrtx or fundraiser@rescuebostons.org
Zelle: info@abtrr.org
Venmo: @Heidi-Trimpe-68
Ca$hApp: @beandogmom
Snail Mail: ABTRR, PO Box 1286, Little Elm, TX 75068
More about Snickers (Permanent Foster)
Is Not Good with Dogs
,
Is Not Good with Kids
,
Somewhat vocal
,
Requires a yard
,
Leashtrained
,
Cratetrained
,
Plays fetch
,
Likes to play with toys
,
Prefers cool climate
,
Prefers warm climate
,
Protective
,
Needs special care
,
Skittish
,
Independent
,
Intelligent
,
Not good with small dogs
All adoptions begin with our online application at www.abtrr.org
​ If you have questions about a particular dog, please email us at info@abtrr.org.
While we do have a phone number, we have a very small volunteer base and we are often unable to return phone calls in a timely manner. Thank you!
American Boston Terrier Rescue & Rehabilitation
www.abtrr.org